Temple
The Ashram has a Shiva Temple in which the Main Residing Deity Narmadeshwar Shri Bhir-Bhanjan Mahadeva is established along with His Family (Gauri, Ganesh, Kartikeya, Nandi) and Shri Hanuman. A Sacred Lamp is lit continuously in front of Lord Mahadeva since last Akshaya Triteeya, 27th April 2009.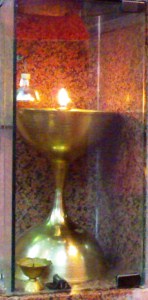 Daily Pooja and the recital of Shiv Maha-Puran is conducted from 4:00 to 5:30 in the morning. All the devotees residing in the Ashram respectfully attend the program.
Rudra-Abhishek is conducted on every Pradosha and Maha-Rudra-Abhishek is conducted during special occasions like Maha-Shivratri and on Akshaya Triteeya (Ashram Foundation Day).
The meaning of "Bhir" is "problems" or "sorrows" and "Bhanjan" is "The Breaker", so Bhir-Bhanjan Means "The Breaker of problems and sorrows" in this case "The Eliminator of all sorrows and problems". There is an apparent effect in worshipping this form of Deity.
'Akhand' Maha-Rudra-Abhishek,




Jal-Abhishek and Puja

2 groups of 11 Pandits performing
the recitation for day and night
After the conclusion of 'Akhand' Maha-Rudra-Abhishek,


a Yagna and then Purnahuti is performed